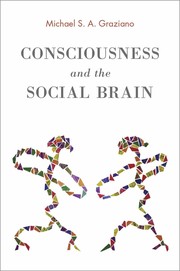 Consciousness and the Social BrainMichael S. A. Graziano; Oxford University Press 2013WorldCat•LibraryThing•Google Books•BookFinder 
Part 1: The Theory
I didn't know much about the author or even what the book was going to be about other than a theory on consciousness.  What I've discovered is a refreshing, fascinating take on what consciousness really is and how it could possibly be generated by a material, objective brain.
My viewpoint of consciousness has of course evolved over time as I've read more and developed my ideas as I went along.  At first I was convinced there was no way a subjective awareness could arise from objective matter no matter how complex the interactions within the brain were.  There must be "something" else.  I always held the strict reductive materialist view as being too myopic.  These scientists' mode of investigation always seemed to be suggesting that if all possible neuronal interactions were measured and associated with specific subjective states– we'd finally be able to say: "There!  All that is consciousness!"
But that's not an explanation of a subjective experience.  That's simply saying that this interaction or that interaction happens to be occurring during a person's reported experience and speaks nothing of the root problem: subjective awareness in objective matter.
So, that being said, I've liked alternative explanations.  One of my favorites thus far has been panpsychism and specifically David Chalmers theory of how consciousness is a fundamental part of reality.  This to me seemed to logically be the only plausible conclusion that didn't resort to "magic" of some sort.  Now, that leads to the problem of identifying exactly WHAT it is.  I liken this though superficially to theoretical physics– we can theorize something is there (like a particle) and then go look for it.
So in Consciousness and the Social Brain Graziano takes a different approach.  He first lays out what he considers consciousness and awareness: consciousness encompasses information AND awareness.  In other words, it's not just a person's personality or the knowledge they have OR even the ability to be aware of that.  He illustrates it using this graphic:
From there, he introduces his theory: awareness is a description.  It's information.  The brain essentially does what?  It processes information.. when you think of an apple you access a data bank of information (some from memory, some from senses, etc).  Let's say: "green", "round", "stationary".  You can also say you are viscerally aware of the apple.  It doesn't even have to be an apple in front of you (which is just visual information)– it can be an apple "in your head".. something you're thinking of introspectively.  This process of attention, whether of something visually represented or introspectively, is a rich description of what being aware of the apple is.  So the informational segments of an apple would be: "green", "round", "stationary", "awareness".  This is the attention schema.
In other words, awareness is a description of not only things like "it's round" but also the qualia: the greenness, the taste, etc.  From what I understood, Graziano is essentially saying qualia can be information.  I cannot describe green, but I can experience it and be aware of it– this can be a description (information).
Graziano proposes that attention, unlike awareness, is not data.  It is a data-handling method.  Signals compete and are amplified in the brain and this process can be called attention.  When you look at an apple, the signals associated with that apple (including the ones describing awareness of the apple) are amplified and that process is attention.
This is where it gets really interesting: awareness and attention of the awareness is a positive feedback loop.  You can be aware of being aware of the apple.  Through the process of attention, this can strongly amplify the experience of awareness itself.
The attention schema, made up of bound and associated information, is constantly reconfigured and this is what makes up consciousness.  Most theories of consciousness have been concerned about how consciousness is generated from matter.  Graziano flipped that around and asked "How does consciousness exert an effect on the brain?"  Or in other words the traditional question has been "How does objective matter generate subjective awareness?" and Graziano is asking "How does a subjective awareness influence objective matter?"  The very fact that you can verbally report that you are aware seems to prove this latter question.
Graziano goes on to explain his theory in greater detail, and also highlights some of the "errors" that can occur from this type of processing.  Multiple personality disorder, OBEs, group consciousness can all be explained, and even be predicted, by the attention schema theory.
Part 2: Comparisons to Previous Theories and Results
In this section Graziano compares the attention schema theory to both social theories of consciousness and integrated information theories.  He highlights the legitimate shortcomings of these theories and where the attention schema fills in.  In short, consciousness exists even in people that have no or very limited social contact which the social theory of consciousness has a hard time explaining.  As for integrated information, it purports consciousness is emergent.. an epiphenomenon of complex interactions of integrated information.  Why, then, aren't other complex systems like the Internet conscious?  There is far more information on the Internet than in the human brain and it is all interlinked.  But there is no question about the internet being "conscious".
Next, Graziano starts to probe where the attention schema might be generated.  This is the weakest area of the theory and his argument is not well substantiated.  He focuses on both the STS (superior temporal sulcus) and the TPJ (temporo-parietal junction) which are indicated in MRI scans of subjects experiencing awareness.  However, they seem to be directly linked to visual awareness.  Patients afflicted with "neglect" which is a syndrome, usually as a result of a stroke, caused by damage to the STS and TPJ.  They are unable to generate awareness of objects almost always in the left visual field.  The problem here is that visual awareness is just ONE type of awareness.  There is no discussion around whether or not their base awareness or consciousness is affected.  In other words, are these people still aware they are aware?  They seem to be, since they can report awareness of objects in the right visual field.  Graziano readily admits there is no explanation as to why it mainly affects the left visual field, but to me this is an indication that this is the wrong place to look.  In other words, it is a highly specified area.
The strongest chapters in the book are the last two.  First, he tackles the question of whether free will exists.  The attention schema theory it turns out does allow for the existence of free will.  Graziano points out:
It has the capacity to shape the processing in the brain and to control behavior.
I do have a problem with this.  If consciousness is, at its basic level, complex interactions of descriptions of information– where does free agency come into play?
He also makes a distinction between two "types" of consciousness.. what he calls type A and type B.  Type A is the consciousness that we generate through awareness and can report that we have it.  Type B is the consciousness we attribute to other people, animals, and even inanimate objects.
In the end, Graziano is essentially saying there is no traditional "consciousness" as many have thought.. in other words, there is a process of awareness but no singular "thing" that can be called consciousness.  He points out that essentially Type A and B consciousness are the same.  They are descriptions.  "Consciousness" is only real because it is a description.  Taken as a whole attention schema theory proposes that humans are data processing machines that include a property we describe and feel as "awareness".
He explores the evolutionary (is this adaptive?) and spiritual (can consciousness survive after death?) implications.  He also highlights that in theory computers could be programmed with an attention schema and could be considered conscious.
Conclusion
This book was especially exciting for me to read as it is one of the first completely material explanations of consciousness that seemed to be logical.  Sobering, but logical.  Because the book is so well written an amateur in these studies can easily pick it up and follow along.