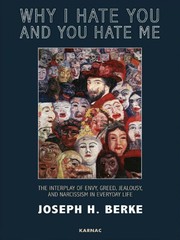 Why I Hate You and You Hate Me: The Interplay of Envy, Greed, Jealousy and Narcissism in Everyday LifeJoseph H. Berke; Karnac Books 2012WorldCat•LibraryThing•Google Books•BookFinder 
Recently I went searching for a book that would shed some light on envy and greed, and specifically why and how those desires arise.  My intent was to learn more about how these desires come to take such an incredible hold over individuals and dominate societies.  There is a growing narcissism epidemic and in fact it is on track with the obesity epidemic (Jean M. Twenge, W. Keith Campbell (2010). The Narcissism Epidemic: Living in the Age of Entitlement. Atria Books. ).  This is having catastrophic consequences in our society as we deal with critical issues like global warming and income inequality.  I wanted to understand the psychological elements behind the negative drives of our modern culture.
Why I Hate You and You Hate Me is written by a psychoanalyst, Joseph H. Berke.  I didn't know much about psychoanalysis, but after a little research (and reading of the book) it was apparent that it's deeply entrenched in phenomenology and doesn't rely on a quantitative, experimental approach.  The book certainly read this way– the author supports many of his arguments with anecdotal experiences and literary based comparisons.  This does not necessarily invalidate the conclusions or even diminish them, but I think it would be of great value to pair it with a neuroscientific perspective.
Much of the book attempts to illustrate how envy, greed, jealously, and narcissism (from here on out referred to as EGJN) are tied to basic impulses that were denied or otherwise restricted during the early infant and childhood years of life.  From what I gather this is a Freudian approach which makes sense given that he is one of the progenitors of psychoanalysis.
I decided to skim over these sections and focus on information and discussion I found pertinent.  I enjoyed reading some of the theorizing about the genesis of these emotions in infants and children, but my main interest is how they plays out in the modern world.  One such section:
The greed-oriented politician stresses rapid and unrestricted economic growth and development, no matter who or what gets hurt or ruined in the process.  He favours high-profit policies, often associated with free enterprise and capitalism.  Not all capitalists are greedy, but "capitalism" has become synonymous with greed.  A term like "capitalist pig" conveys the contempt and derision of the envious, just like "loony leftist" is a damnation which express the fear of people who want to hang on to their possessions.
Berke goes on to say that envy and greed are rarely separate and a colleague of his even coined the term "grenvy".  So what we see in politics today and have for some time is unimpeded greed mixed with envy.  But what exactly makes up EGJN?
Envy, greed, and jealousy have three components: perception– an awareness of something provoking an intolerable feeling; feeling– intense displeasure and vexation; and action– forceful attacking, annihilating behaviour.
What we've seen in Western culture recently is an exponentially increasing drive for materialistic consumerism.  Value placed on material things and even social status seems to create a ripe environment for EGJN to take hold.  The damning, shaming language used by groups like the Tea Partiers, right-wing "pro lifers", and leftist environmentalists is a perfect example of action being taken to transfer the "intolerable feelings" to others.  There is an intensity to political arguments that is not often seen in other types of disagreements.
Berke differentiates narcissism from envy.  Those that are envious seek to destroy what they cannot stand to witness.  Narcissists seek to diminish others and inflate themselves.  A narcissist doesn't necessarily have a drive to destroy those that have things, but those that are envious will many times destroy the person AND the object of desire to completely extinguish the feelings within them.  Envy can also operate as a positive feedback mechanism– if one denies envy it can create rage, which leads to rage at others, which leads to rage at the self, and so on.
Narcissism can also have a dark side.  Berke notes:
This phenomenon has been well noted with many left or right wing political activists who can move from kissing babies to preaching mass murder without blinking an eyelid.
Destructive narcissism, Berke says, is when narcissism and envy converge.
There is also a "grandiose self structure" when referring to such an individual whose main concern in life is to be totally self-sufficient, an island unto himself, the source of his own being.  but this self is also very fragile.  So any suggesstion that another person can offer something useful or needed can send the potential recipient into a torrential rage or depression.
In the closing chapter, Berke recounts this Native American story which I found to be timely given the current state the world finds itself in:
One evening an old Cherokee told his grandson about a battle that goes on inside people.  He said, "My son, the battle is between two wolves inside us all.  One is Evil.  It is anger, jealousy, sorrow, regret, greed, arrogance, self-pity, guilt, resentment, inferiority, lies, false pride, superiority, and ego.  The other is Good.  It is joy, peace, love, hope, serenity, humility, kindness, benevolence, empathy, generosity, truth, compassion, and faith."

The grandson thought about it for a minute and then asked his grandfather, "Which wolf wins?"

The old Cherokee simply replied, "The one you feed the most."
The book closes out by observing that while these emotions are unpleasant, negative, and can lead to destructive and horrible actions they are ultimately needed.  I believe one needs to acknowledge and accept (both emotionally and intellectually) that we're all, at times, envious, greedy, jealous, and narcissistic individuals.  Doing so will bring about mindfulness of when these characteristics rear their head, and ultimately will lead to greater understanding and forgiveness of others (and the self).