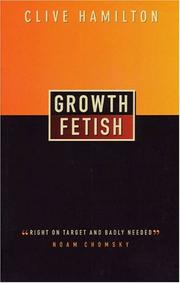 Growth fetishClive Hamilton; Pluto Press 2004WorldCat•LibraryThing•Google Books•BookFinderContinuing on my Clive Hamilton kick, I was excited to read this book as it seemed to be directly related to The Freedom Paradox.
Hamilton skillfully eviscerates what he calls the fetishism of growth that has gripped modern society.  Growth is not a means to an end, it is the end.  The benefits of growth, capitalism, and material consumption are so self-evident and ingrained that, at least in the mainstream, there is no dissent, questioning, or even acknowledgment of potential downfalls.  It has become as ubiquitous as breathing.
What makes this even more troubling is the costs that this fetish has cost society:
The costs of economic growth, which fall largely outside the marketplace and so do not appear in the national accounts, have become inescapably apparent– in the form of disturbing signs of ecological decline, an array of social problems that growth has failed to correct, and the epidemics of unemployment, overwork, and insecurity.  Those societies are characterised by a prevading and deep-rooted malaise.
Democracy has been replaced by a corporatist oligarchy that has hijacked the drives of individuals and channeled them into their own constructs in order to increase their power (primarily through wealth).  Hamilton notes that the more that "material pursuits and extrinsic motivations" are emphasized, the more this generates a dissonance that can only be quietened through more consumption.  This positive feedback loop was expertly illustrated by George W. Bush when he offered the succinct advice to "go shopping" after 9/11.
It isn't just our inner lives that have been infiltrated by this force, but our relationships are mediated through these channels as well.  Relationships are leveraged to become a means to the self; the more a society glorifies "the wealthy, the powerful, the famous and the beautiful" the more we look at relationships as commodities that will bring us closer to "happiness".
Hamilton identifies a key element that has perpetuated the problem: rationality.  Specifically a "peculiar form of rationality".  Hamilton quotes Norman Brown:
Money reflects and promotes a style of thinking which is abstract, impersonal, objective, and quantitative, that is to say, the style of thinking of modern science– and what could be more rational than that?
As Hamilton points out, neoliberalism is based on a single choice: "the choice between different goods for sale".  Despite heavy evidence suggesting otherwise, we're told it's our nature to make rational economic choices of what to consume, and that fulfillment of this will lead to happiness.  This is essentially an empty quest: devoid of meaning, depth, or end.  The problem of rationality that Hamilton is referring to is not that rationality is a problem in of itself (though I plan to explore Rationalism as a problem), but that the information that society is working with is narrow and constrained by extrinsic forces.  This is exactly how cults operate.
So why is society so hellbent on destroying itself and ignoring these issues even when they're right in front of us?  Speaking out against growth means confronting our "guilty acquisitiveness" and the "essential meaningless of life they fear may lie just below the surface."  This is an area I'd like to explore further.  What are the neurological correlates behind this dissonance?
Hamilton goes on to detail out why growth is a fetish, how our world is obsessed by it, and why it is mad.  The most apposite example is climate change and our inability to truly act to confront it.  It is the narrow, peculiar form of rationality peaking its head through again.
A fantastic, well-written, and needed book.  Though not quite as in depth as The Freedom Paradox, it weighed in more on the political and social aspects of our society than the philosophical which the latter covered.
It is only selflessness, love for others, that stands between us and the hell of rational economic man.